Logo Motion
Thank you for visiting our Website! The Boatwright Company and Logo Motion have recently merged. Boatwright Logo Motion is located at 1125 E Cross St in Penacola, FL. We work with businesses, churches, teams, non-profits,and other various organizations to help them market and promote their company, brand, and message. When you find what you are looking for, please contact us so we can discuss your needs in greater detail, or use our shopping cart to submit your order - our secure check out makes it safe, easy and convenient. If you are just browsing, click on our 'request for more information' option and we'll get back to you.
Featured Item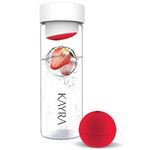 Ice Ball Flavourit Glass Water Bottle
The Ice Flavourit Ball 20 Oz. (600 Ml.) glass water bottle with fruit ice ball maker adds an ice cold infusion of flavor to your water. Place your favorite fruit in the ice ball infuser, add water or ...

Signature Showrooms